Making the choice to pursue orthodontic care is exciting. After all, orthodontics can change your life for the better in a number of ways, and that's certainly something worth celebrating! However, it can also be a slightly overwhelming experience, and it's not unusual to feel some anxiety over the process, especially if you aren't sure what to expect in the months ahead.
Dr. Majznerski and the Align Orthodontics team want you to feel confident in our practice, and that begins from the moment we meet you! Your initial consultation with our West Michigan practice is one of the most important appointments you'll have, and we go the extra mile to make it as positive and stress-free as possible. Our consultations are 100% complimentary, so let's take a look at what you can expect from your first orthodontic visit – and beyond!
The first step in your orthodontic journey
After a warm welcome, you'll be introduced to some of our talented team and given a short tour of the office. Recognizing that children, teens, and adults will have different needs throughout the orthodontic process, we've created two distinct offices in one location: one for children and teens, and one for adults. After we show you around the appropriate office for you, we'll move on to taking a few photos and x-rays for our diagnostic records. Following this, Dr. Majznerski will perform a thorough examination of your mouth, teeth, and jaws.
We believe that patients should be informed partners in their orthodontic care, so we're committed to making sure you understand each and every step of the treatment process. We never want you to feel as though you're being rushed, or that your questions have gone unanswered. Once your exam has been completed, Dr. Majznerski will sit down with you and discuss a variety of topics related to your particular case. You can expect him to cover:
any oral issues you're experiencing that orthodontics can address
if treatment is needed immediately or if it would be better to delay it
what treatment options we have available to correct the problem
an estimate of how long we expect your treatment to take
the total estimated financial investment
any payment or financing options we have available to you
At Align Orthodontics, there's no such thing as "one size fits all" orthodontics! Instead, we look at the specific needs of each patient to create customized treatment plans that consistently produce superior results and a better overall experience. Dr. Majznerski will look at your smile, lifestyle, and goals before recommending a particular treatment option to you.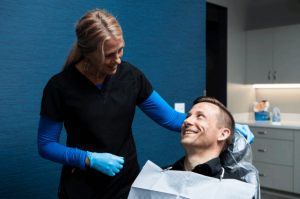 Investing in a healthier smile
Once you've decided on a treatment plan with Dr. Majznerski, we'll go over the total investment needed for your new smile. This cost will vary from case to case, as every orthodontic patient has their own unique needs and will respond to treatment in their own way. Our team will take care to ensure that you understand all the associated costs of treatment before we move on to the next step in your journey!
Dr. Majznerski believes every patient deserves the orthodontic care they need. Align Orthodontics is proud to provide West Michigan families with a variety of affordable treatment options that will work with any budget. We have multiple payment options designed to fit your needs, and if your insurance covers orthodontic treatment, our team will be happy to file your claims for you.
Keep in mind that many insurance policies have a lifetime orthodontic benefit that is distinct from regular dental insurance. Because these insurance policies vary, we will always review your insurance to determine the best course of action before treatment. This allows you to maximize your coverage and get the most out of your policy!
What comes next
Once your initial consultation is complete, we'll schedule an appointment for you to receive your new orthodontic appliance, whether it be braces or Invisalign aligners. You'll also be scheduled for follow-up appointments with us approximately every 6-8 weeks throughout the treatment process. During these visits, we'll adjust your appliance if necessary, and check that your treatment is progressing according to plan.
Because these visits are an essential part of your treatment, it's important that you don't miss them. While we know that life isn't always predictable, and that you may need to reschedule appointments from time to time, we do ask that you try your best to make it to your scheduled follow-up appointments. If you are unexpectedly running late or unable to make it to the office, we simply ask that you let us know as soon as possible so we can get you rescheduled!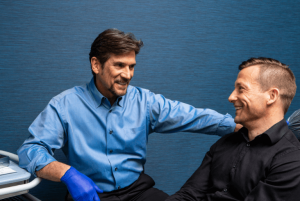 A healthier smile is waiting for you with Dr. Larry Majznerski
Your smile is one of the first things people notice about you, and that it's also the feature they're most likely to remember. Orthodontic treatment is one of the most important investments you can make for yourself or your family, and you shouldn't trust that to just anybody! Dr. Larry Majznerski has been providing West Michigan communities such as Grand Rapids, Wyoming, Grandville, Jenison, Byron Center, and Hudsonville with unparalleled excellence in orthodontics for over 25 years. He is an expert in creating lasting smiles worth for patients of all ages!
Dr. Majznerski is also Grand Rapid's first Invisalign Elite Preferred provider and Invisalign Teen provider. This means he is in the top 1% of all Invisalign and Invisalign Teen Doctors in the world! Align Orthodontics combines cutting-edge technology with innovative techniques to prove top-quality care that is second to none.
Whether you visit our adult office or our office for children and teens, we'll provide you with personalized service and an enjoyable orthodontic experience in a comfortable, clean, and relaxing environment. You're guaranteed the smile of your dreams with Dr. Larry Majznerski and Align Orthodontics!
If you're in West Michigan, we'd love to meet you and share more about how orthodontics can benefit you and your smile. Get in touch today to schedule a complimentary consultation!