Although many people associate orthodontics with teens in braces, treatment can actually be beneficial for patients of all ages, including adults. In fact, many adults seek treatment specifically because of how dramatically it can improve their oral health, personal appearance, and self-esteem! Aside from a straighter smile, correcting crooked teeth or a bad bite can decrease the risk of developing tooth decay and gum disease. It can also help reduce headaches, jaw pain, and even bone loss.
As long as the gums and bone structure are healthy, teeth can be aligned successfully in adulthood using a range of orthodontic appliances. Here at Align Orthodontics, Dr. Majznerski offers several treatment options for adults, including Invisalign clear aligner therapy. As Grand Rapids most experienced Invisalign expert, Dr. Majznerski has over 20 years of experience with the system, and is West Michigan's very first Invisalign Elite Preferred Provider! This experience allows us to recommend Invisalign to all of our adult patients, even those who have been told in the past that they were not candidates for the system. We've had so much success with this method that we've built West Michigan's only orthodontic office exclusively for adults.
If you're unfamiliar with Invisalign, it's a popular alternative to traditional braces that uses clear plastic aligners to shift your teeth instead of brackets and wires. Invisalign is able to treat a variety of common dental issues, and has a number of benefits. Let's take a look at just a few of the reasons why many adults prefer Invisalign aligners over traditional metal or clear braces!
They are a discreet treatment option
For adults who would prefer a less obvious way to straighten their smile, Invisalign allows patients to straighten their smile in a very inconspicuous manner. If you're an adult considering orthodontic treatment, you may worry that braces will be disruptive to lifestyle, or that they'll stand out too much. Because Invisalign's clear aligners are nearly invisible, you'll have the freedom to enjoy your regular routine without feeling self-conscious or frustrated by the decision to invest in your smile! The Invisalign system is an ideal solution for straightening the teeth in a reasonable amount of time with only a minimal impact on your everyday life.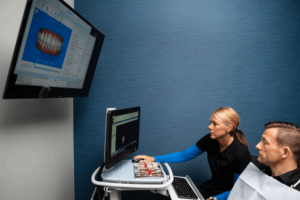 Invisalign aligners are removable
With Invisalign, the restrictions of traditional metal braces don't apply since the aligners are removable. You'll love having the ability to remove them when you eat and drink, and when you brush and floss, as well. With no food restrictions to worry about, you can indulge in all your favorite foods, and cleaning both your teeth and the aligners is a simple process. Invisalign aligners can also be removed for short periods of time, so if you have an important meeting or special life event happening, you can let your natural smile shine through!
Invisalign aligners are comfortable
The brackets, wires, and bands that come with metal braces can sometimes irritate the sensitive tissue of your cheeks and gums. Invisalign aligners are custom-made to fit over your teeth snugly and comfortably. While they may occasionally cause a small spot of irritation, these areas can be smoothed easily by trimming the aligner or filing the edge down with a clean fingernail file. Because the aligners must be worn for 20-22 hours every day to be effective, comfort is an important feature for patient compliance.
Less time in our office
Between work, school, family life, and extracurriculars, life as an adult can be exhausting! Regular visits are just one more thing to pencil in on the calendar, but with Invisalign, there are no adjustments necessary, so checkups aren't as frequent and tend to be relatively quick. Dr. Majznerski will check that your teeth are moving as they should be, and may also present you with the next few sets of aligners. As long as you remain vigilant about switching out your aligners according to schedule and wearing your aligners as directed, your treatment should stay on track.
Adolescent treatment vs. adult treatment
Orthodontic forces move healthy teeth in the same way for patients of any age. However, tooth movement can take longer in adults because the bone density is harder in a mature person compared to a growing child or teen. This can also be complicated by existing dental conditions. In addition, adults have more wear and tear on their teeth, gums, and bone. Dr. Majznerski has the experience to address issues that are specific to adult orthodontic treatment and offers Invisalign as a way to improve both the teeth and the bite successfully.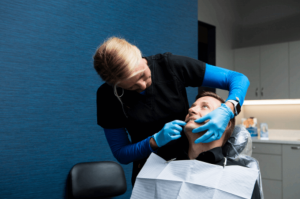 Get a healthier mouth with Dr. Majznerski and Align Orthodontics
A beautiful smile is only one benefit of Invisalign clear aligner therapy! Straighter teeth with a proper bite can also improve your overall health. Crowded or crooked teeth can be difficult to clean thoroughly, which may lead to tooth decay or gum disease. An improper bite can also cause jaw pain, early wear and tear, speech difficulties, and chewing challenges that can lead to digestive issues.
Orthodontic treatment can restore function and help prevent gum disease, bone loss, and abnormal enamel wear, while a healthy smile will improve self-esteem, regardless of age! Invisalign treatment with an expert like Dr. Majznerski can correct problematic bites, alignment issues, and improve your overall oral health.
The Align Orthodontics team is committed to providing our adult patients with the most discreet method of treatment, and will ensure you understand each part of the orthodontic process. If you're ready to take the first step towards straighter teeth and a healthier mouth, get in touch with us today to schedule a complimentary consultation. Align Orthodontics and Dr. Majznerski are here to provide you with a first-class orthodontic experience!